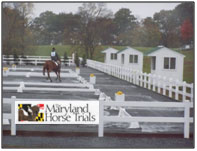 Would your company like the opportunity to reach thousands of people in one weekend? The Maryland Horse Trials is home to 3 of the largest United States Eventing Association events with more than 400 competitors a weekend, including local and Olympic riders.
In 2014 the Maryland Horse Trials hosts dressage shows,

hunter jumper shows, competitive trails rides, as well as numerous equestrian events and year round schoolings. The cost of hosting high quality events demands substantial time and money.
This is a great opportunity for you to lend your support and promote your product and business to thousands of people.
We offer Event Sponsorships, Perpetual Trophy Sponsorships, Ads in our Program Book, and any other custom package that would work for your business. Just This email address is being protected from spambots. You need JavaScript enabled to view it.This email address is being protected from spambots. You need JavaScript enabled to view it.for all the details.
Who will you reach with this opportunity?
Horse Trials Demographics (Source: USEF)
• Majority are between 34-54 years of age
• 66% have a college degree or better
• 56% are employed full-time
• 80% make or directly influence purchasing decisions at work
• 38% have a net worth of over $500,000
• Nearly half have an annual income of over $100,000
• 40% live on a farm; 66% of those are ten acres or more
• 63% have traded stocks, bonds, or mutual funds in the last year
• The market value of the average home is $594,000
• 22% own 2 or more homes
• 94% own a pet besides a horse or pony
• On average, they spend 30 nights per year in a hotel and rent vehicles four times per year
• On average, they own three vehicles; 53% own a pick-up truck
• Most have been active in equestrian sports for 22 years
• On average, they compete at least six times a year
• On average, they own two or more horses, with a quarter owning five or more
• The average value of all horses owned per household is $87,000
• 62% trailer their own horses to competitions

We would greatly appreciate your support in keeping the Maryland Horse Trials running strong in the future!
We are happy to customize a sponsorship package to meet your needs. Please CONTACT US to reserve your spot today!